The TFT Foundation UK
Our Mission: To help alleviate the mental suffering of those that have experienced trauma and pain.
We are the UK based non-profit making charitable foundation for the use of Thought Field Therapy (TFT). As a body, we aim to support and promote the use of TFT by allowing access to those in most need and distress to help alleviate mental suffering, and to further research and education for the benefit of all.
The TFT trauma relief technique is a very different treatment to that anticipated by those who are not familiar with it. It seems just too simple to be able to do much of anything. And yet, 30 years of testimony from thousands of people around the world show it to be revolutionary in its ability to help people achieve emotional freedom and peace of mind.
Simply put, its effectiveness, speed and power defy all expectations and previous experience. The standardised treatments, which were derived through diagnosis, are available to anyone, regardless of education, nationality, age, race or creed. And thanks to the internet and donations by our sponsors, they are available free via the internet.
To enable us to help with Post Traumatic Stress Disorders (PTSD), alleviate suffering of victims of attack or rape, offer assistance after devastating natural disasters, and many other mentally debilitating scenarios, we need your help.
As a charitable foundation we rely upon donations from people like you to help us continue our work.
---
Join us for our Wellness Retreat:
Take Control of Your Emotional, Physical and Spiritual Health. Experience the Ultimate Self-Empowerment.

Set in 18 acres of beautiful and peaceful grounds, Park Place is a fine old Georgian house close to the Hampshire village of Wickham.
In the tranquil Park Place Pastoral Centre, www.parkplacecentre.org.uk, Our Team Will Work With You to Overcome Your Health Challenges and PTSD symptoms, healing your past traumas without the need for painful reliving.
---
The Tapping For Humanity Newsletter…
Please enjoy this issue and share it with everyone you know.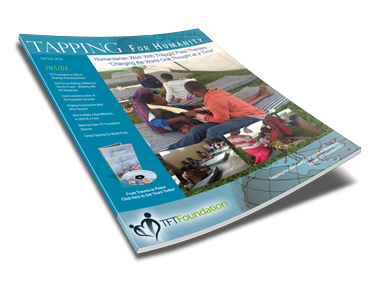 Join us in helping our foundations, both in the USA and UK, continue their research, education and trauma relief programs worldwide. You can contribute using the Donate button on the right of this webpage. There are not too many places you can donate where you can see over 90% of the contribution go directly to the program and see and hear exactly what was accomplished with those funds.
Joanne Callahan, MBA,
President, TFT Foundation
_________________________
TFT Foundations' Trauma Relief and PTSD Research 2014 Uganda
A multi-national team returned to Uganda in January 2014. They did a follow-up study on PTSD and treated and trained many more people.
_______________________________
From Trauma To Peace
TFT Foundation board members, Mary Cowley, wrote a wonderful description for the documentary.
Peace IS within our grasp. It is at the tip of our fingers…literally. The upcoming documentary "From Trauma to Peace" will shock you in how quickly and easily people can be relieved of the devastating effects of trauma through the safe and effective "tapping" technique of Thought Field Therapy (TFT). AND how the impact of that emotional freedom not only brings peace of mind to the individual, but facilitates peace within and among communities.
A mayor in the Northern Province of Rwanda commented: "People who I have never seen smile, are smiling. People who were not productive are now productive." Our documentarian just returned from Rwanda, filming people's stories about how TFT has changed their lives. He said "…each story included a statement like, 'I never smiled in my life until I was treated with TFT'."
People CAN break the cycle of violence and feel hope and joy again. Please help us in our efforts to bring peace to our world, one person–and one community–at a time, through TFT. This film will help create the awareness that entire traumatized communities can help themselves go from trauma to peace.
Please consider a donation to help us bring this documentary to the world:
_______________________________
Thought Field Therapy Foundation UK Ltd (Companies House registration 06121447)
The Foundation can also accept any cash gifts named in your Will. Your support of TFT Foundation UK will help us continue our education, research and humanitarian relief programmes around the world.
_______________________________